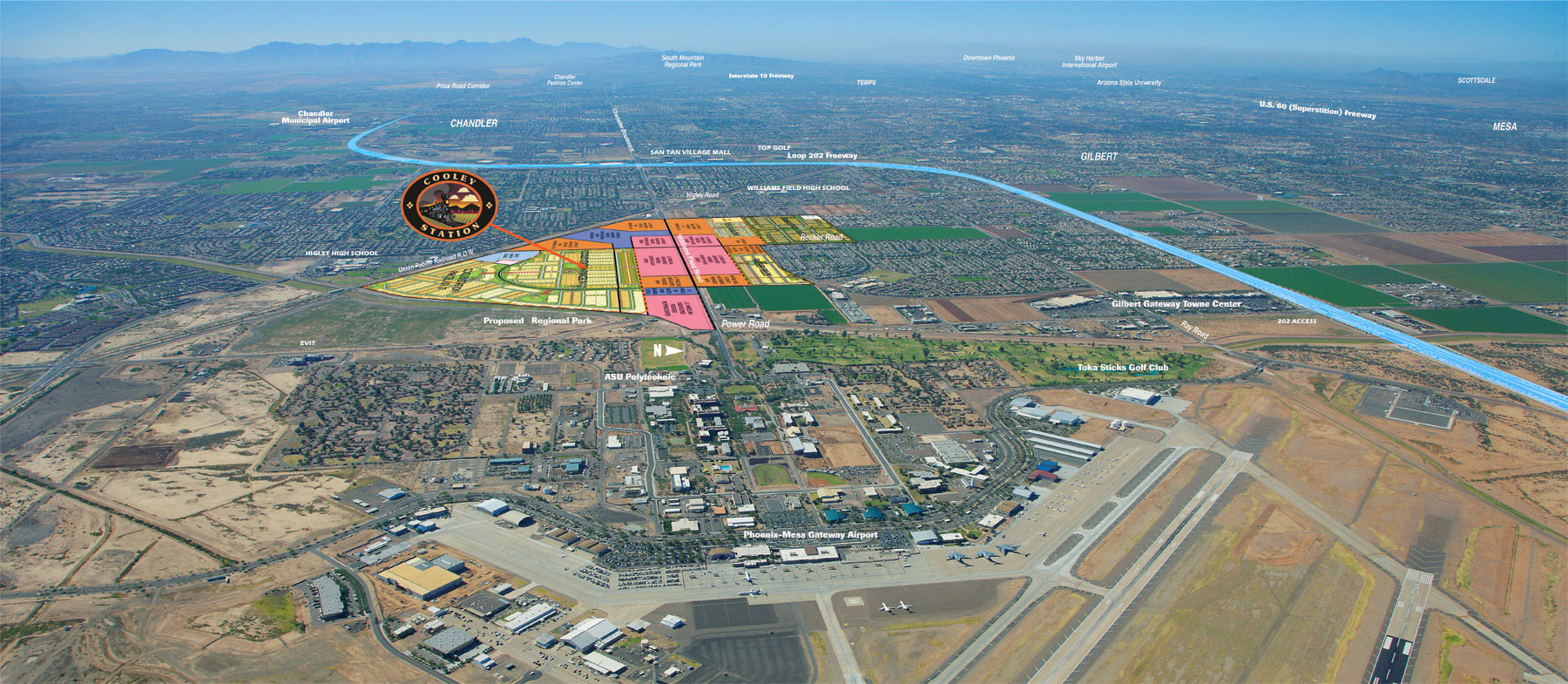 Area Highlights
PHOENIX MESA GATEWAY AIRPORT
Getting to and from the East Valley just got a lot easier. Phoenix Mesa Gateway Airport hosts multiple airlines with service to over 40 destinations, with more on the way. The full-service terminal is also home to dining, shopping, rental car services, and is developing as an international aerospace center with over 2.2 million enplanements estimated by 2027.
Phoenix Mesa Gateway Airport website
SAN TAN VILLAGE MALL
Located in Gilbert, one of the nation's fastest growing cities, San Tan Village is an open air, regional "lifestyle" center, encompassing 3 million square feet of multi-use space. The mall is home to dozens of shops, award winning restaurants, and a movie theater complex. Whether you're soaking in the spring sunshine or seeking shade from the summer heat, San Tan Village is a short right due west from Cooley Station.
San Tan Village Mall website
ASU POLYTECHNIC CAMPUS
Home to more than 11,487 students enrolled in 40 degree programs, Arizona State University is one of the largest higher education institutions in the world. The 600-acre Williams Campus and is conveniently located across the street from Cooley Station. The unique facility is loaded with research facilities, libraries, and other resources that make it the prize of the East Valley.
ASU Polytechnic website
MERCY GILBERT HOSPITAL
Opened in 2006, Mercy Gilbert is a 212-bed, acute care, not-for-profit community hospital with more than 1,200 employees. Ranked as one of the nation's "Best Places to Work" by Modern Healthcare, the hospital is part of Dignity Health, one of the largest healthcare systems in the western U.S., and provides a host of community classes and outreach programs.
Mercy Gilbert Hospital website
TOP GOLF COMPLEX
Just down the street is a world-class Top Golf entertainment complex – offering food, beverages, and a virtual-live golfing experience in the fresh air of Arizona.
Top Golf Gilbert website
GILBERT GATEWAY TOWNE CENTER
Gilbert Gateway Towne Center is literally just around the corner from Cooley Station. With roughly 50 stores and restaurants in the complex, you can have your car washed, grocery shopping and banking done in just one visit. Who knew getting your daily tasks done could be so easy.
Gilbert Gateway Towne Center website
TOKA STICKS GOLF CLUB
Just around the corner is the Toka Sticks Golf Club, conveniently located off the South Loop 202 freeway at Power and Williams Field roads in Mesa Arizona and adjacent to Phoenix-Mesa Gateway Airport.
Toka Sticks Golf Club website
DESERT SKY REGIONAL PARK
Gilbert's newest park addition, Desert Sky Regional Park boasts 4 multi-use fields, a fitness course, large walkable lake, kids playground, 11 ramadas, and restroom facilities. The park is adjacent to the Cooley Station development along Power Road between Pecos and Williams Field.
BUSINESS OFFICE DEVELOPMENT
Part of the regional transportation system linking the cities of Chandler, Gilbert, and Mesa with other Metro Phoenix area cities, the Loop 202 is fast becoming a major technology hub. The Price Road Corridor located west along the Loop 202 is home to leading edge companies, Intel, Infusion Soft, Orbital Sciences, and Motorola. Cooley Station is central to all these.
LOOP 202 ACCESS
Freeway and Interstate access begins at Loop 202 (Santan Freeway) near the Phoenix-Mesa Airport and extends to the U.S. 60 in Pinal County, provides enhanced access from the rapidly expanding southeast Maricopa County to northeast Pinal County.
Contact Us for More Information